Garage Door Replacement
Back To Our Services
When you are searching for a good garage door repair companyת look no further than Garage Door Repair Mesa. We will take care of all your garage door needs, no matter what the size of the job is. Professional application or private home owner we will take care of whatever job you need done. You can call our 24 hour a day hotline and get in touch with one of our dedicated garage door technicians who will be more than happy to come out rain or shine and fix whatever issue might be going on with your garage door.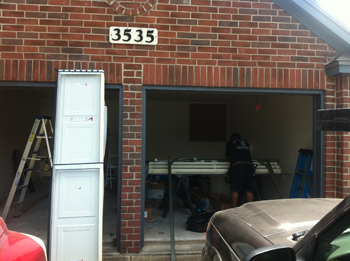 We are dedicated to getting your garage up and working or replace it at the best prices
We will guarantee our work to make sure that if you ever have a garage door issue again we will be who you return to. We are bonded and licensed and insured so that you know the work is covered and guaranteed each and every time. We want to make a friend with your business so that you will recommend us to your friends and family as well.
We will give you a comprehensive look through the books if you want to pick out a new garage door. We offer everything from wood and metal to fiberglass, roll down or automatic garage doors. We also handle totally customized garage doors as well. No matter what you are looking for we will surely have what you are looking for and if it's not in stock we will order it special for you. We will have your new garage door up and for the price that you feel comfortable with.
All of our work will be guaranteed and that makes for good friends and neighbors. We want to make you happy even if it's just a simple repair job for an existing garage door. We want to meet with you and get you started on the short road to garage door happiness. No matter what is wrong we can take care of it. Call today at 480-270-8503 one of our amazing staff members will send someone out ASAP and get you looked at. We pride ourselves in understanding your special needs and concerns and work with you to resolve any issues that you might have about your garage door.
Contact us so we can get you all set up for a face to face meeting with one of our technicians who won't over sell you for things that you don't want or need. This is a non-pressure situation. If something is broken we will fix it and if something needs to be replaced we will replace it as long as that's what you want. Your happiness is our #1 priority.